Are you more of a Report or Dashboard Manager?
Oded Weiss
Authors: Yoav Shimonovich – BI solution expert
Overview
Are you a "Report Manager" or a "Dashboard Manager"?
Who doesn't know the difference between a report and a dashboard?
Imagine looking at an extensive report with many columns, records, and much information.
And in contrast – a dashboard with a few KPIs and a few graphs from which you can directly derive insights.
Which will you choose when it comes to analyzing data? Does this indicate the type of manager you are?
A few months ago, one of my employees asked me to give him specific instructions as it helps him work better with more self-assurance that he does things in the right direction, so – that's what we did. On the other hand – last week, another employee came to me and told me precisely the opposite – that I guide her too much, and hence she feels that I don't trust her decisions. We agreed that I would take a step back and wait for her feedback.
Two different people that I love and care for – see me differently. And I wanted to understand if I am a "Dashboard Manager" or a "Report Manager" ? is it subjective or Objective?
On the one hand, there is a "Report Manager"
A centralized manager for whom it is always important to know all the data, the tasks, the rate of progress, and the time management of his employees. He is a manager who usually implements anything and is on top of his employee's utilization. He centralizes the information, makes most of the decisions, and prioritizes the team's tasks himself.
And on the other side is the "Dashboard Manager"
This manager invests time so that his employees connect to his WHY, allowing them more freedom of action and a high level of independent decision-making within their role. They will know their responsibilities and boundaries better. Get to know the different interfaces and especially when and why you need to contact/update the manager.
And what am I? A "Report Manager" or "Dashboard Manager"?
These two managers are sure that their way will promote the business activity in the best way and their employee's outcome and success in the best way.
Important to say that we do not support this way or another.
What are the differences between a Dashboard and a Report?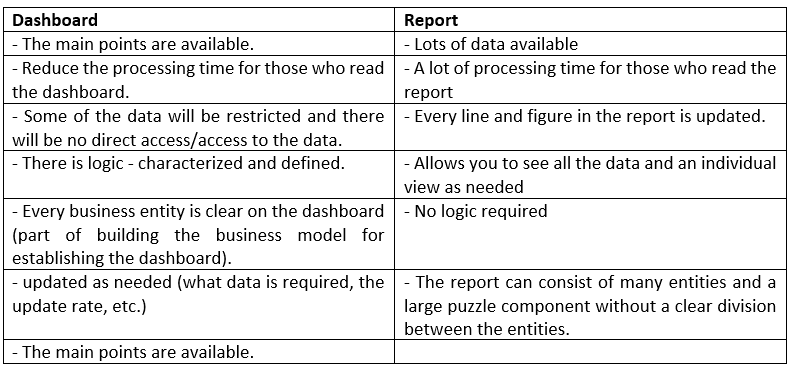 Working with reports requires a high skill level in the data world. After the report is produced, there are countless actions that a user takes to derive insights from the report. For example:
Download the information to Excel.
Make a pivot on it.
Add classifications and look for anomalies.
While working with a dashboard, we could pre-define several settings that would allow us to see the big picture, the problems, or the benefits we are looking for while we "trust" the data below.
The same goes for management.
The "Report Manager"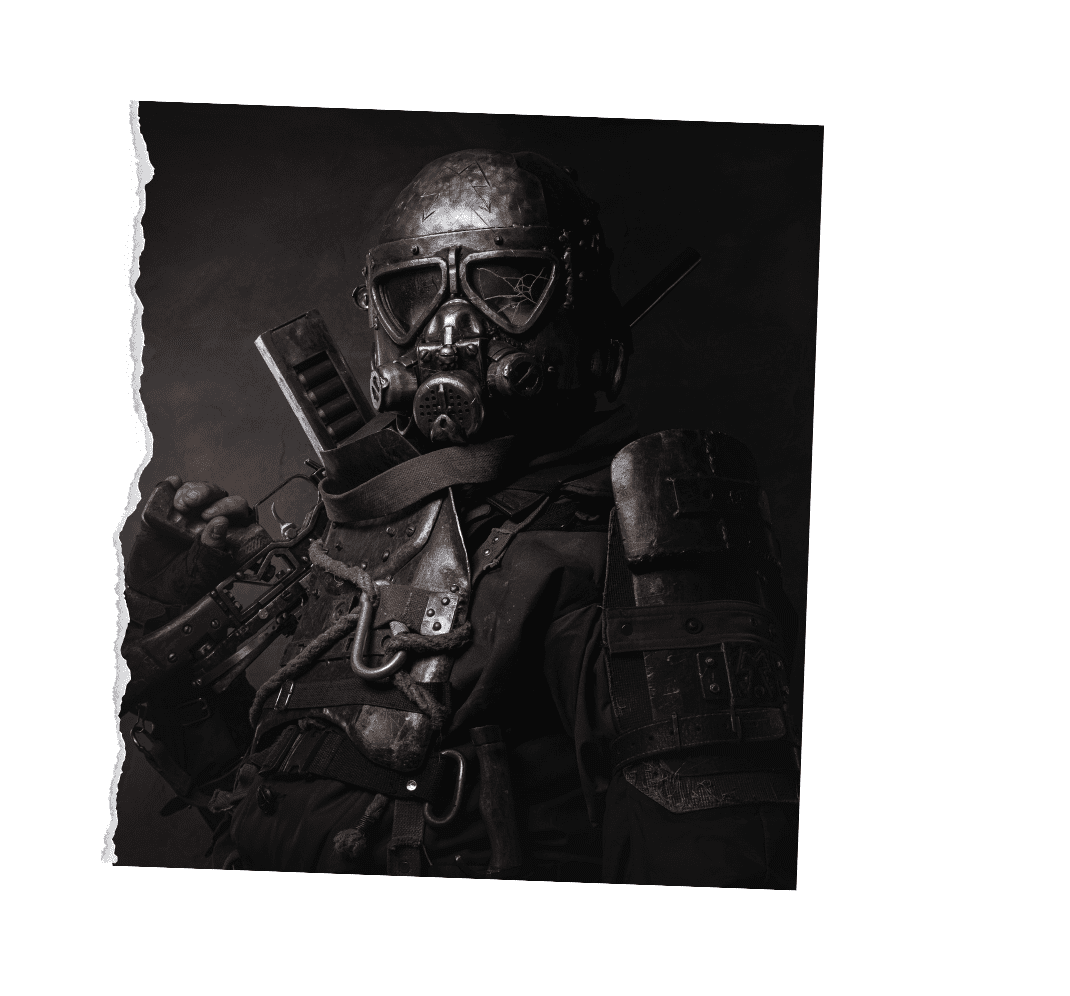 The "Report Manager" – will be required to traffic a lot of information frequently and will have to concentrate a lot of ongoing effort to manage the tasks. The manager will have a significant challenge keeping all the information and knowledge. Still, he will have relative ease in making decisions (he does not depend on anyone or lack the availability of required information) and, of course, will not be required to spend time to "catch up" on what is happening.
This manager will require a relatively long processing time (a large amount of information he receives dramatically limits his ability to make decisions accurately, and it will also be difficult for him to consult or receive a different opinion/criticism). In addition, there will not always be a fixed/clear logic in the decision-making of that manager (which may affect him, his employees, and anyone whose decisions and area of responsibility the manager acts).
The "Dashboard Manager"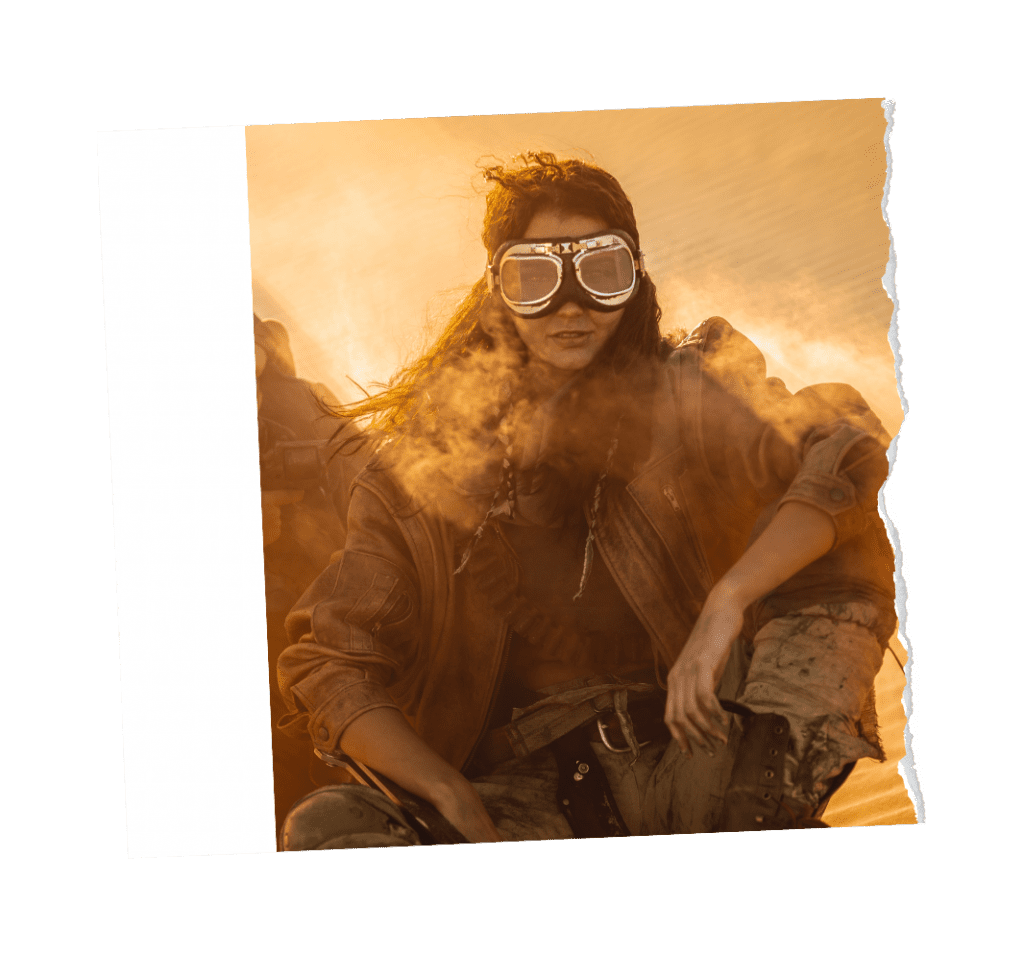 On the other hand, a "Dashboard Manager" delegates powers to allow the business to regularly work without dependencies and believes she can avoid unnecessary delays.
The manager will demand to know and be updated on the main things as needed and will define the time of the update and the amount of the necessary update. The manager will usually define for her employees when they should contact her to make a decision and when they will be required to make the decision themselves.
And on the other hand, this will also require a lot of investment.
She will need to invest in the characterization of the administrative requirements that include interfaces, areas of responsibility, and work processes, the absorption of new employees into the required structure, and ongoing maintenance that includes required corrections of hers WHY in front of his employees.
And what about the employees? Where do they feel they contribute more? When they have a "Dashboard Manager" or a "Report Manager"?
Part of humanity likes to receive instructions, and another wants to participate in the decision-making.
Some are looking for a leader: a charismatic personality to follow. Does it necessarily indicate the type of management?
Some prefer not to take responsibility, and some enjoy taking responsibility.
Some employees prefer a boss who comes with a sharp and precise agenda without requests. Defining definitions and organized plans.
And some appreciate the possibility of being part of creating change and promoting personal agendas.
Which employees do you think will be more committed? Those who work for the "Dashboard Manager" or those who work for the "Report Manager"?
And what is better in terms of the organization? What does it look like there?
Which manager successfully permeates the organization "WHY" better to the next level of employees/managers? Could one type of management be more "soul player" in nature and another less so?
And what happens when a manager leaves? It may be that the organization will have a problem replacing a report manager – because he keeps a lot of information. And on the other hand, when the dashboard manager leaves, will this lead to the departure of additional employees…?
And what are you more of – a "Dashboard Manager" or a "Report manager"? What do you want to be?